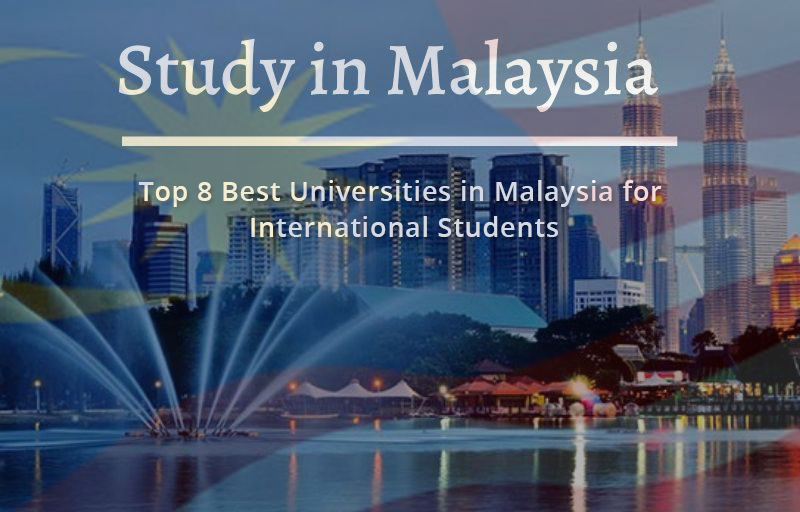 Studying abroad in a faraway country can be challenging, but it's a decision that can change your life and shape your future. Once you start your studies abroad you realize that it is one of the best decisions of your life. And, it won't be just because of the quality of education that you would benefit from studying abroad.
Malaysia is becoming a top education destination among international students with its high educational standards and lifestyle. Malaysian institutes are ranked within top 200 universities in the World. There are over 100 world-ranked universities in Malaysia providing graduate programs in more than 150 courses, which makes it best destination for graduate students.
Top 8 Best Universities in Malaysia for International Students
Universities in Malaysia have renowned presence in regional and global ranking with its meticulous research and high standard of education. For those who are considering to study in this diverse, cultural country, here are top 10 universities in Malaysia.
University of Malaysia
University of Malaysia (UM) is the highest-ranking university in Malaysia, with world ranking of 301 according to times higher education. The university is bases in federal capital of Malaysia, the city of Kuala Lumpur. The university was established in 1949 and is ranked 24th in Asia according to QS Asia Ranking. The University of Malaysia is famous for its broad subject spectrum with more than 15,000 undergraduates and 14,000 postgraduate students.
The university offers a wide range of programs for international graduates who wish to pursue their degrees in Malaysia. The university also offers multiple scholarships to help students to share academic cost so get in touch with Education consultants in Islamabad to secure admission and scholarship in the university.
Universiti Tunku Abdul Rahman
Universiti Tunku Abdul Rahman (UTAR) ranks worldwide at 501 according to Times Higher Education. The university is one of the digital tech university providing students with theoretical and practical training to meet the world's digital economy demands. UTAR was developed in 2002 with more than 20,000 students enrolled at present.
The university has two campuses, one in Klang Valley and the other in Perak. One of the best part about the university is that it has three intakes annually i.e. January, May and October. It offers a wide range of graduate courses e.g. engineering, business, Arts, Medicine, IT, Accounting, etc. UTAR offers multiple scholarships and grants for international students and has academic partnership with various countries like US, UK, Canada, Australia, Germany, etc.
Universiti Kebangsaan Malaysia
Next in line is the Universiti Kebansgaan Malaysia (UKM) or also known as the National University of Malaysia (NUM). UKM is a public-funded university offering multiple courses for international students in English language. According to times higher education world ranking, the UKM ranks at 501 and 43rd in Asia.
The university offers a comprehensive range of subjects from medical science to engineering and IT to arts, with strong focus on research. The main campus is situated in Bangi, south of Kulala Lampur. The university has a notable alumnus with several national level research institutes equipped with modern up-do-date technology.
University Putra Malaysia
University Putra Malaysia ranks 36th in Asia and 601 worldwide. It is a public research university located in Serdang, just south of Kuala Lumpur.  The university was initially founded in 1931, as an agricultural and forestry department but expanded to other fields and offers graduate courses across all subject area.
Universiti Putra Malaysia is famous for its post graduate research and Business school offering world class professional MBA and Masters in several areas.
Putra Business School was the first program in Malaysia to receive accreditation by Association to Advance Collegiate Schools of Business (AACSB). Some of the institutes accredited by AACSB include Harvard, Yale and London School of Economics. It should be kept in mind that only five percent of the world business programs enjoy this accreditation.
Universiti Sains Malaysia
Universiti Sains Malaysia (UMS) ranks 601 worldwide and 46th in Asia. It is a public research university offering variety of programs for international graduates. Its main campus is in Georgetown and other two campuses are on the Peninsular Malaysian mainland. The university is famous for most published research papers in Malaysia and is one of the country's top research centers.
University Teknologi Malaysia
Universiti Teknologi Malaysia is focused on engineering and technology-related fields. It has two campuses, one based in federal capital of Kuala Lampur and the other in Johor Bahru. It ranks 601 worldwide and 49th in Asia.
Universiti Teknologi Malaysia offers multiple graduate courses for international students primarily focused on engineering and IT fields. However, there are other research programs associated with medical science, human resources, bio engineering etc.
Universiti Teknologi PETRONAS
Universiti Teknology PETRONAS is ranked 98th in Asia and 600 in the world ranking. The university is the one of the youngest in Malaysia established only in 1997. The university is a subsidiary of PETRONAS, national oil and gas company in Malaysia. The university offers various industry focused degrees in engineering, science, and technology.
Universiti Utara Malaysia
Universiti Utara Malaysia is ranked 131st in Asia and 600 globally. It has two campuses, one located in Kedah and the other in Kuala Lumpur. The university was established in 1984 and is the only Malaysian institute focused on management studies. The university boasts a vast campus of 1,061 hectares with facilities like golf course, go-kart circuit and equestrian area.
Universiti Utara Malaysia has three colleges delivering management and industry education.
College of Business
College of Arts and Science
College of Law, Governance and International Studies.
The university is a great option for students who want to pursue their graduate studies in management science and professional MBA's. in order to score scholarships, it is recommended to get in touch with Education consultants in Islamabad, and increasing your chances of admission.
Malaysia – Destination for International Degrees!
Malaysia's government spends millions into growing their partnership with other countries like England and Australia. Therefore, Malaysia hosts branches of foreign universities like Monash University (Australia) and University of Nottingham (UK). Hence, studying in Malaysia will open door to more international opportunities.
Remember not to miss the deadlines and consult educational professionals for admission requirements. Get documents ready and apply away! Good Luck!