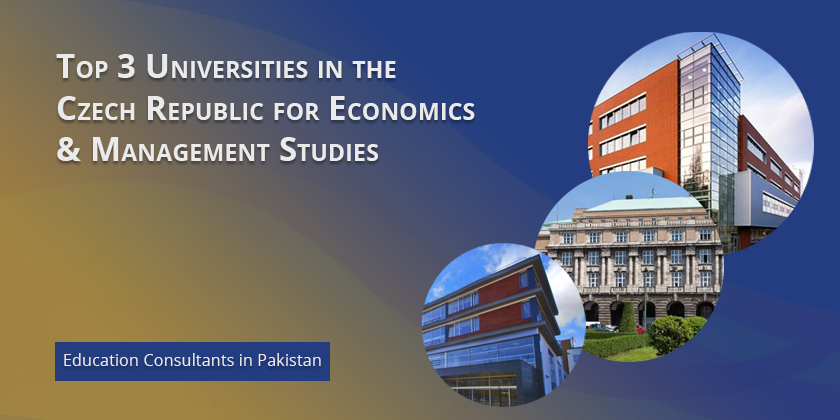 When it comes to studying abroad, choosing a destination and university can be very challenging for students. When you hear about studying abroad in Europe, you mostly think about London, Paris, or Germany. These destinations are no doubt top of the line – but there is a destination that offers the same quality education at a lower price tag – Czech Republic.
The Czech Republic and its capital Prague offers not only state-of-the-art technology and infrastructure but also historic beauty promising adventures at a fraction of cost. Prague is one of the fastest-growing study abroad destinations in Europe because it offers a high-quality lifestyle at affordable costs and is one of the safest cities in the world.
Best Universities in the Czech Republic for Economics & Management for 2020-2021
If you are thinking about pursuing a degree in management, economics, or any related field in Europe, then you might want to consider the Czech Republic. Why? Because it hosts some of the world-class universities offering top-quality education in economics and management.
To help you make your decision, we have shortlisted the top 3 institutes in Prague, the Czech Republic, for economics and management studies. Let's get started!
Universities of Economics Prague
University of Economics, Prague, is a public research university located in Prague, Czech Republic. It is also known as the Prague School of Economics. It is the largest university in the field of economics and business management in the Czech Republic, offering multiple programs with more than 15,000 students from all across the world.
The university has six major faculties as follows:
Faculty of Finance and Accounting
Faculty of Business administration
Faculty of Economics
Faculty of Management
Faculty of International Relations
Faculty of Informatics and Statics
Some of its best programs that are taught in English include:
Economics and Business Administration
Economics and Public Policy
Finance and Accounting
International business
International and Diplomatic Studies
MBA
Management
Its International School of Business and Management offers one of the best MBA programs in Europe and ranks among the top 1% of Business Schools in the world. It has a flexible study structure and has a corporate partnership with international companies like Google, Skoda, T-Mobile, etc.
Apart from classroom learning, the university offers a professional experience to students with corporate exposure. The Business School is accredited with both EQUIS and AACSB.
Hence, if you have prepared all the documentation with the help of Education Consultants in Pakistan, you can easily secure your admission and get your MBA from one of the best Business Schools in Europe at affordable costs.
Charles University
Charles University, also known as the University of Prague, is one of the oldest and largest universities in the Czech Republic. It is also one of the oldest universities in Europe, established in 1348, and is still in continuous operation. The university has three campuses located in Prague, Hradec Kralove, and Pilsen.
Charles University has 17 faculties offering various programs to its students. Its Faculty of Social Sciences consists of 5 major institutes as follows:
Institute of Economic Studies
Institute of International Studies
Institute of Sociological Studies
Institute of communication and Journalism
Institute of Political Studies
Some of its popular programs that are taught in English include:
Economics and Finance
History and Area Studies
Social Sciences
Politics, Philosophy and Economics
Corporate Strategy and Finance in Europe
Apart from getting a degree from one of the oldest and prestigious universities in Europe, Charles university also offers students a chance to enroll in a three year Erasmus Mundus Joint Master Degree and get an opportunity to study at other universities in Europe at a scholarship.
Czech University of Life Sciences, Prague
Czech University of Life Sciences in Prague has a Faculty of Economics and Management offering multiple courses to its students at all levels. Some of its best departments are as follows:
Department of Economic Theories
Department of Economic
Department of Law
Department of Trade and Finance
Department of Management
Department of Statistics
It offers various courses at undergraduate and graduate levels that are taught in the English language for international students. Some of its popular programs include:
Business Administration
Economics and Management
Informatics
European Agrarian Diplomacy
Tuition Fee: Their Bachelor's programs start as low as 1,300 Euros, with 3,000 Euros tuition fee for the first year and 1,300 Euros for 2nd and 3rd years of study. The same goes for Master's degree (1st year = 3000 Euros, 2nd year = 1,300 Euro).
Most of its graduates have been employed in big corporations like Tesco, T-Mobile, International Banks, and KPGM. The University also offers international mobility programs like Erasmus to its students with multiple scholarship opportunities and accommodation support.
If you want to secure admission at the Czech University of Life Sciences at Prague, consider contacting education consultants in Pakistan for help in application procedure and documentation. Apply away to study among the best faculty in Europe.
Study in Prague, Czech Republic! 
These are some of the best universities in the Czech Republic for economics and management studies for international students. You are not only securing a chance to study in an international school but also to acquaint yourselves with a new culture and a way of life different from your own. Not only will it help you broaden your knowledge but also equip you with social skills which you will use to adapt to any new environment that you come into contact with. It's a win-win situation.