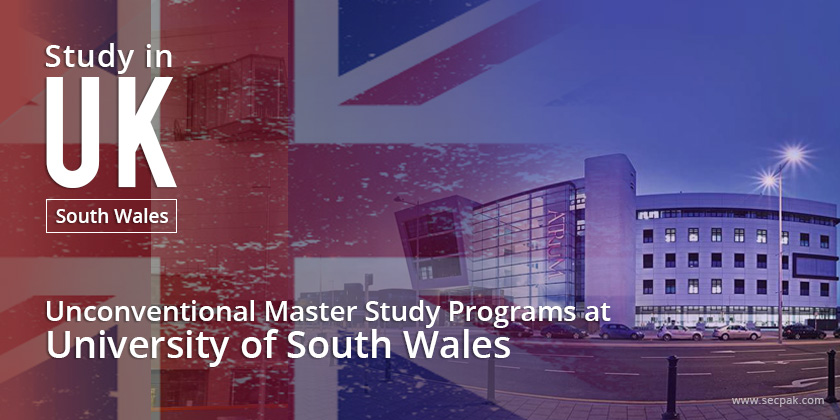 The University of South Wales is a public university in Wales, the United Kingdom. Although the university has recently been established in the year 2013; however, its history dates back to the nineteenth century, which is one of the major reasons it has gained immense popularity and recognition on the international front. Students from developing countries like Pakistan are eager to secure their admission and become a proud part of the University of South Wales.
The university is currently offering admission in the master study programs to international students. Most international students give up the idea of studying in the UK because of IELTS; however, this particular university has given up the condition of IELTS, and students just have to share the proof of their English medium high school education to secure admission.
Dig deeper into this article to explore the unconventional master study programs at the University of South Wales.
Top 6 Distinctive Master Study Programs to Pursue at USW
Gone are the days when people used to be content after completing a high school diploma. Nowadays, continuing higher education is critical to excel in this fast-paced, technologically advanced world. Many students from developing countries opt for master study programs at the University of South Wales; however, they struggle to pick a major as they are not much aware of the details of programs.
Here are the top distinctive master study programs to pursue at the University of South Wales.
1. MA Animation
Digital media is getting more popular with every passing day. In such a scenario, animations are also grasping the eyes of the viewers. If you are also interested in making animations for videos, movies, cartoons, and numerous other mediums, getting a masters' degree in animation from the University of South Wales can pave your way towards progress.
2. MA Art Psychotherapy
Masters in art psychotherapy is another distinctive study program the University of South Wales is currently offering to international students. The program will teach and train the students to become certified art psychotherapists. You will also get the opportunity to study in detail what it is actually and how it works to relieve the stress, anxiety, and depression of mental health patients.
3. MA Documentary Photography
Documentary and photography are the two distinctive media fields that have gained immense popularity over the course of years. A distinctive field that has emerged from these is a master's study program in documentary photography. Now, the students interested in both areas can jointly study and get a degree which will open new avenues of success and progress for them.
4. MA Games Enterprise
If you are interested in not only playing the games but developing them, the Master's in game enterprise program offered by the University of South Wales is surely your calling. The university does not even require IELTS, so if you have more than 60% marks in your high school diploma, you can easily pursue your studies there. You can learn game development in detail, polish your skills and become a part of the billion-dollar industry.
5. MSc Play Therapy
Every individual need counseling and therapy at some point in their life. However, not all people are comfortable and confident to seek therapy. Play therapy is a new form of therapy that heals the wounds of people and lets them understand their own selves. If you are also interested in pursuing a Master's studies in play therapy, you can hire education consultants in Pakistan and get a detailed brief about the program, admission process, visa matters, and numerous other things to embark on your journey of international studies.
6. MSc Dementia Studies
Dementia and Alzheimer's are two diseases that are confused with one another. On the one hand, the cases of dementia are increasing in Pakistan, and on the other hand, there is not much awareness about it in society. You can pursue a master's study program in dementia studies from the University of South Wales to get a deeper insight and professional expertise and contribute to the cause.
Why should you choose to study Master's program at USW?
The University of South Wales is one of the best universities in the United Kingdom. Here are some of the important reasons you should get enrolled in a master degree program there;
1. Best country to continue higher education.
2. Internationally accredited course programs by professionals.
3. No IELTS is required for the admission of international students.
4. Higher percentage of graduates getting employed within six months of graduation.
5. Vast range of course of major-related work experience opportunities.
6. Scholarships worth two thousand pounds (£2000) for postgraduates.
Now that you are aware of the reasons, as well as have explored the distinctive master study programs at the USW, you should make your mind and pursue admission. Get in touch with experts to get more detailed information and secure your admission before it is too late.