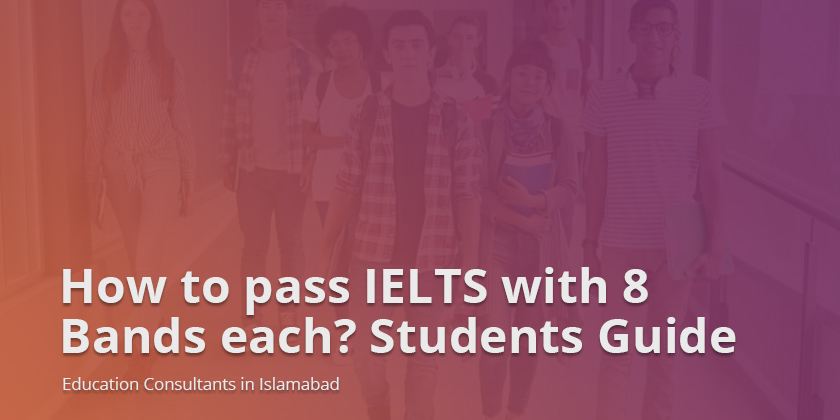 Studying abroad can be the biggest dream of many individuals, especially from developing and underdeveloped countries. However, the aspiring candidate has to provide proof of English language proficiency in many cases.  For instance, you should pass the IELTS test with the required bands. In some cases, 6 bands in each module are enough; in others, you have to get 7.5 and 8 bands overall.
So, are you ready to qualify the IELTS exam with flying colors?  If yes! The guide is going to help you find the best tips to achieve your study abroad goals successfully. Keep reading!
What is an IELTS Band?
First thing first, you must have a proper understanding of the meaning and impact of bands on your overall scores. If you are aspiring to get 8 bands in IELTS, you have to answer at least 89% correctly in reading and to listen. Both the module have 40 questions each, and you should answer 36 questions correctly.
Speaking in IELTS is calculated using raw scores as the individual's performance should meet the criterion of the IELTS official description for the bands 8.  Lastly, the writing criterion is also set by the British Council for IELTS.
Hopefully, you have got a fair idea. In case of any confusion, you can also get advice from study abroad consultants in Islamabad for making a working strategy to ace the IELTS exam. The professional can help you understand the pattern of the exam better for gaining confidence to pass it with flying colors.
Your easy guide to ace IELTS with 8 bands
Let's face reality! IELTS test score enables the individuals to apply anywhere across the world for study or permanent immigration. Although there are many other English proficiency tests available, IELTS is the widely accepted test so far.
So, a list of easy tips is compiled in the form of a comprehensive guide to help you prepare for IELTS successfully. Consider the given below:
Include English Listening in your daily routine
If you want to perform better in IELTS, you should consider speaking and listening to English regularly. For this purpose, you can focus on listening initially. You can concentrate on motivational speeches, movies, and lectures in English.
Don't forget to listen to TED talks to ensure ease of understanding and comprehension. It will help you in speaking and listening modules.
Make a comprehensive plan
Don't think you can do everything by dint of your luck. You have to come up with a comprehensive strategy to ace IELTS. For this, write down everything that seems important to you and then focus on streamlining all essential activities to perform better in the IELTS test. Remember, plans work like a roadmap, so devise a 100% working strategy to get 8 bands in IELTS!
Focus on improving skills
Essentially, every module in the IELTS exam requires individuals to have a particular skill set. You should consider improving all the essential skills necessary to ace the exam successfully. Therefore, conduct a SWOT analysis of your existing skills and make a map for improving the weakness and highlighting the strengths in the exam with confidence. This is your key to success in IELTS with 8 bands.
Practice IELTS exercise smartly
You already heard that practice makes the man perfect – stick to it. You can find a lot of IELTS material over the internet and can buying exercises from the British Council. Make sure to attempt worksheets smartly by focusing on learning techniques. Don't forget to work on time management, along with knowledge acquisition for the test as IELTS is all about smart work.
Enjoy preparation for IELTS
Many people cannot qualify the IELTS exams as they take too much stress during preparation. It is counterproductive. You should stay relax as much as you can while learning the essential concepts of the English language. The secret of success in IELTS is to integrate practices in your daily routine and enjoy working on skills improvement.
Reflect your learning
Last but not least, preparation for IELTS doesn't just require you to consume knowledge, but you should consider reflecting the concepts as much as possible. It will help you to gain confidence in your skills. The best way is to record your speaking and listen to it for improvement. Practice listening and make sure your answers meet the criterion of the module. Don't forget to practice writing regularly based on the patterns for obtaining 8 bands in IELTS.
Stop looking for more tips, consult now!
Summing up, the guide provided in the article is sufficient to help you understand the significance of and preparation hacks for IELTS. There is no need to surf over the internet for more tips and guides, but it is the right time to get in touch with study abroad consultants in Islamabad to select your study destination.
Don't' forget to select the country and learn about English proficient criteria to avoid misconceptions. Believe yourself, and keep your goals high for guaranteed success!