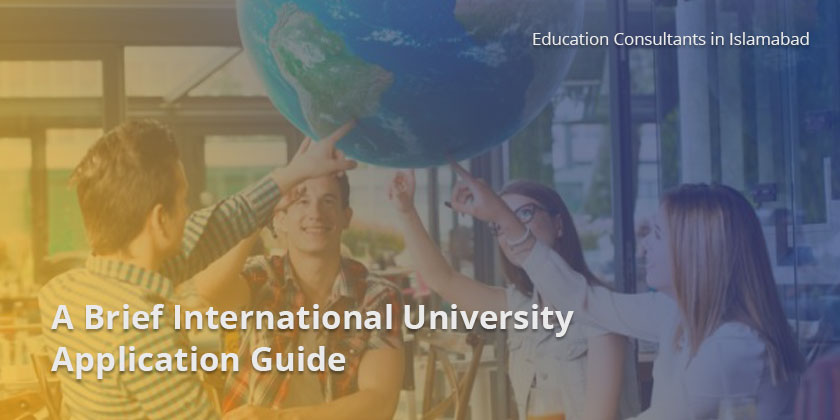 Finishing university is a huge milestone to overcome. But that is not all. Graduating from a university only serves to open up new portals to discover and hone in on our major. Studying in an international institute is the best way to do that because not only do you internalize new knowledge but also get introduced to new people, new cultures, and, most importantly, more modern ways of thinking and reasoning.
There are different admission requirements for various universities across the world. However, all of them have similar application procedures regardless of the location. Before going into specifics, it would be highly advantageous for you to prepare ahead of time, so you don't miss any deadline.
How to Apply to International Universities and Get Accepted in 2020
The University application process can be very overwhelming and stressful, especially if students don't have any proper guide. Look no further. This is a comprehensive and concise step by step guide to help you study abroad.
Research Universities
The first step after you decide to study abroad is to be aware of all the colleges and programs offered in your country of preference. Have a clear goal in your mind about what you want to study, and it is advised to keep your options open. You should narrow down your options to at least three universities in the same country or different destinations abroad.
There are thousands of education institutes out there in the world offering multiple programs. Therefore, it is recommended to get advice from education consultants in Islamabad regarding the best option for you according to your wishes and academic background. Thorough research into your desired universities is required well ahead of time because each international college has different application requirements and deadlines.
University Application Documents
After you have chosen at least three international colleges, read the academic requirements of each program to figure out your probability of being accepted by the university. Then comes the application process. Usually, you can apply through the university's online portal, but some institutes require the applicant to send a hardcopy of the application via post.
There are also online portals for specific countries like Germany, where you can apply to different universities through a universal profile. Most international universities have created online platforms for application to make it easier for students to apply to more than one college at once. Therefore, you need to make a list of all the required documents required for the application. Here is a list of universal application documents that all universities require.
Complete university application form
Visa history declaration form
Educational Documents (degrees, transcripts, provisional certificates, diploma)
Letter of recommendations
Language test (IELTS, TOEFL, etc.)
Copy of passport
Statement of Purpose
Comprehensive CV
Extracurricular activity certificates
Admission Test and Language Test
If you are applying for an undergraduate program, then you would need an admission test. There are two major entrance exams: American College Testing (ACT) for colleges in the USA and Scholastic Aptitude Test (SAT) that is applicable everywhere in the world. Both these tests are standardized tests that take about 3 hours to complete.
Some universities also have their personalized admission tests, so it is better to get advice from education consultants in Islamabad about individual university requirements before the application deadline. If you are a student applying for a graduate program, then you don't need SAT scores.
International universities also require English language proficiency test reports as proof that you can attend lectures in English and comprehend them. Some of the English language proficiency tests are IELTS, TOEFL, CAE, CPE, etc.
Statement of Purpose (SOP)
Statement of Purpose or a personal essay is the most crucial part of any international college application. A good SOP gives you a chance to stand out from the rest of the applicants and impress the admission team.
A Statement of Purpose is a personal essay that tells the admission team about who you are, your future goals, and why you are a perfect candidate for the chosen degree. A good SOP focuses on your academic and extracurricular achievements. Here are four questions that every SOP should address:
W

hich program are you applying for?
What is your reason for choosing that program?
Do you have any previous experience in the selected field of study?
How are you planning to use your degree in the future?
Letter of Recommendation
A good letter of recommendation (LOR) is essential if you want to get admission in a reputable institution. International universities require two LOR from your professors. A well-written recommendation letter gives the admission committee a quick review of your academic achievements and your potential as a student.
Some universities require a hardcopy of the recommendation letter while some institutions ask for your recommenders (your professors or employer) email Id, and the college asks these people for a letter on your behalf for discretion. Therefore, it is recommended to inform your recommenders before admission so they can prepare a letter in advance.
Portfolio and CV
Another most important document is the CV and your portfolio. If you are applying for an arts degree, then you need to prepare a strong portfolio including all your previous projects and accomplishments. Similarly, your CV should be detailed, including all your relevant skills, accomplishments, interests, and work experience.
Be Aware of the International Deadlines!
When applying online, make sure to familiarize yourself with the deadlines. Some universities offer two admission intakes annually, i.e. (Winter and Fall/Spring). So prepare these documents ahead of time so you don't miss any deadline because if you do, you will have to wait another six months to apply.
You can also consult education professionals to help you at every step of the way and help you achieve your dream.