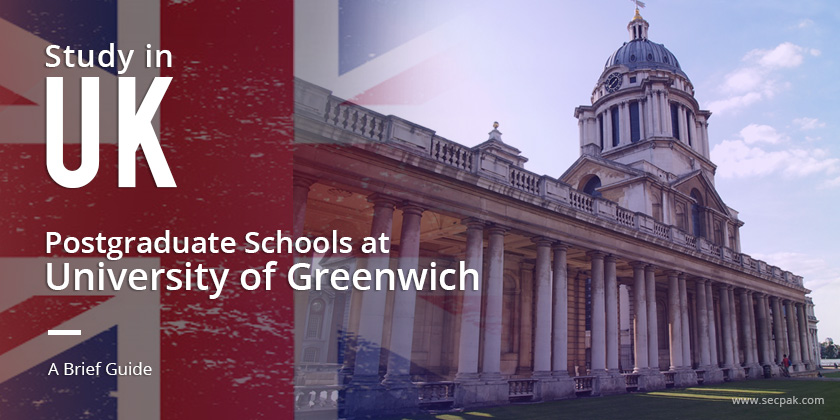 The University of Greenwich is one of the oldest public universities in the United Kingdom, which was established in the year 1890. The university currently has three campuses in the United Kingdom that are Greenwich campus, Avery Hill campus, and Medway campus. Thousands of local and international students are enrolled on each campus.
The University of Greenwich is quite popular at the international level due to its high-quality, research-based education. Especially, the Asian students from developing countries like Pakistan are eager to secure their admission there. However, a low IELTS score is one of the greatest hurdles in their way. The good news is that the University of Greenwich is offering admission in master study programs without IELTS to international students.
Keep scrolling down this article to get your hands on a brief guide about postgraduate schools at the University of Greenwich and pick the one according to your interests.
Top 8 Schools to Explore at University of Greenwich Postgraduate
Securing admission in higher education institutes at the international level is the dream of every other Pakistani student. A lot of them fail to realize this dream due to a whole lot of reasons. One is failing the IELTS test, and the other is not having enough knowledge about international schools. The University of Greenwich has solved the issue by giving up the IELTS requirement.
Besides that, here are the top schools you can explore at the University of Greenwich to continue postgraduate studies without having to clear IELTS.
1. Natural Resources Institute
Agriculture is the main source of economic support in Pakistan. The young generation is eager to revive the industry by studying and implementing research-based practices to increase agricultural production. The natural resource institute at the University of Greenwich provides the best programs in which students secure admission with the help of education consultants in Pakistan. Some of the popular programs include:
1. Agriculture for Sustainable Development
2. Applied Food Safety and Quality Management with Industrial Practice
3. Applied Food Safety and Quality Management
4. Food Safety and Quality Management e-learning
5. Global Environmental Change
2. School of Accounting and Finance
Accounting and finance are among the most popular study programs of all time. The University of Greenwich has opened a school for this particular program. It offers numerous other master study programs in the related fields, which include the following:
1. Accounting and Finance
2. Finance and Investment
3. Financial Management and Risk
4. International Banking and Finance
3. School of Computing and Mathematical Sciences
The interest of the young generation is increasing significantly in computer science and mathematics. The two are related at numerous levels. To provide high quality and research-based education to international students, the University of Greenwich has opened the school of computing and mathematical studies that offer master programs in the following subjects:
1. Big Data and Business Intelligence
2. Computer Forensics and Cyber Security
3. Computer Science (Network Engineering)
4. Computing and Information Systems
5. Management of Business Information Technology
4. School of Design
Design is often associated only with fashion or graphics. However, it is a vast field, targeting several other aspects. If you are also interested in designing, you can secure admission at the University of Greenwich School of design. You only have to clear the English placement test and can opt for any of the following programs:
1. Architecture, Landscape, and Urbanism
2. Construction Management and Economics
3. Digital Arts
4. Film Production
5. Media and Creative Cultures
6. Sustainable Building Design and Engineering
7. Web Design and Content Planning
5. School of Engineering
School of Engineering is one of the most popular schools at the University of Greenwich. It is currently offering admission to international students in master study programs on the basis of the English placement test and not IELTS. You can opt for any of the following programs:
1. Civil Engineering with Industrial Practice
2. Electrical Power Engineering
3. Global Shipping Management
4. Machine Intelligence
5. Water, Waste and Environmental Engineering
6. School of Health Sciences
School of health sciences is one of the most advanced schools at the University of Greenwich. It puts greater stress on research and evidence-based studies. The popular master study programs offered by the school include:
1. Advanced Clinical Practice
2. Healthcare Practice
3. Nursing (Adult Nursing)
4. Nursing (Children's Nursing)
5. Nursing (Mental Health Nursing)
7. School of Human Sciences
The School of human sciences at the University of Greenwich shows that it does not only support science and technology-based advancement but supports the growth and development of society too. The major master study programs offered by the school include:
1. Child and Adolescent Psychology
2. Global Public Health
3. Sport and Exercise Psychology
4. Strength and Conditioning
5. Therapeutic Counselling
8. School of Marketing, Events, and Tourism
If you are interested in the hospitality industry, joining the school of marketing, events, and tourism at the University of Greenwich is an ideal choice. You can hire the service of education consultants in Islamabad and secure admission without IELTS in any of the following programs:
1. International Events Management
2. International Tourism and Hospitality Management
3. Marketing Management
4. Strategic Advertising and Marketing Communications
5. Strategic Marketing
Pick the school of your choice and embark higher education journey!
The mode of education in most countries of the world follows their national language. When students from these countries try to continue higher education at an international level in countries like the United Kingdom, they have to clear the IELTS test to show their English language proficiency.
It often becomes a hurdle, even though they are proficient in the language. Now you can contact study experts to get a brief about the English placement test, which is conducted individually by international schools, and secure your admission in the master study program. Contact experts and explore the details.